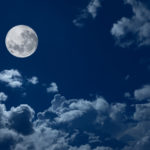 Want to know the best day in 2019 to begin a diet? Straighten hair? Lay shingles? The Old Farmer's Almanac can tell you, based on the moon's astrological signs. There's a "best day", according to astrologist Celeste Longacre, to:
buy a home
pick fruit
pour concrete
wean an animal
wash the floor
paint
lay shingles
get a perm
make jelly and jam
go camping
get married
Since chicks born under a waxing moon in Cancer, Scorpio, or Pisces are healthier and mature faster, eggs should be "set" (placed in an incubator or under a hen) 21 days before the desired hatching time, we learn.
Fascinating stuff. In fact, I thought, naming a "best time" for certain activities can be an effective "template" for serving up information to business blog readers. From the list above, for example, I can see:
a real estate company's blog post about the best time to buy a home or paint
a home repair company's blog about pouring concrete and laying shingles
a beauty products seller's blog about perms
a caterer's blog about the best time to plan a wedding
Is there a best time to publish blog posts?
Garrett Moon of CoSchedule.com reviews the results of a study by Kissmetrics:
The highest percentage of users read blogs in the morning.
The average blog gets the most traffic around 11AM on Mondays.
Blogtyrant.com came to a different conclusion: The most traffic is around on a Wednesday, between 9:30 and 11 USA East Coast time, he says.
Managing Editor Erin Balsa has a practical piece of advice: if the majority of your traffic lives in Los Angeles, distribute your content on weekday mornings at Pacific time; if they're in New York or Boston, the mornings on Eastern time.
As a blog content writing trainer, my second favorite piece of advice comes from Karen Evans, founder of Start Blogging Online! Karen reveals "the surprising truth" – there IS NO universal best time to publish. What works for one blog might not work for yours.
My very favorite advice comes from Rob Steffens of blueadz.com. Ron tells bloggers: "Remember, riming isn't everything; consistency is key."
You may not need an astrologer to pinpoint your own best days for blogging for business!