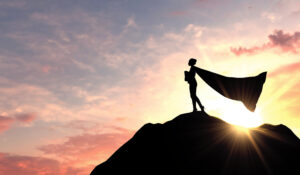 "High levels of confidence, even if unwarranted, can make people appear more attractive to potential collaborators," A.M. Hammond writes in Psychology Today, explaining the importance of the way confidence is expressed. One tip about confidence offered by the American Marketing Association in Business Writing Tips for Professionals is relevant here: "Phrases like 'We're #1', 'We're the leader in our field', or 'We provide the best service' aren't going to get you anywhere."
Ironically, a concern many new clients of Say It For You express to me is that they don't want to come across as boastful in their blog.  At the same time, they know they need to convey the reasons prospects ought to choose them over their competition.
Let the facts do the boasting, I explain. The whole idea behind blogging is that, rather than running traditional ads for your brand of hats, or vitamins, or travel, you provide lots of information on the history of hats, on why vitamins are good for you, and about exciting places to go on safari.  Consumers interested in your subject, but who never even knew your name, will come to see you as a resource.
When trying to make a compelling argument, besides putting thought into your choice of words, you may employ paralanguage, A.M. Hammond suggests, meaning modulations of volume, pitch, or speed in your speaking, which have been shown to add persuasiveness to an argument without eroding sincerity.
How can blog content writers add persuasiveness when they are communicating without sound??? Equivalents to "paralanguage" in written pieces include bolding, italics, and repetition of key phrases. Images also go a long way to help reinforce core concepts in each blog post.
Bullet points are mini-headlines, explains copyblogger.com, and they help focus attention in the same way a speaker's change in pitch and speed might. Italics in a written piece serve to draw attention to a word or an entire line, similar to a speaker's slowing down and enunciating each word to stress a particular idea. "Your imagery should act as a further explainer of your main point,"advises Neil Patel.
With the right kind of "boasting", business owners and practitioners can project the kind of confidence that inspires trust.